Mastervolt Debuts New 36V and 48V Mac Plus Models with New Bi-directional Technology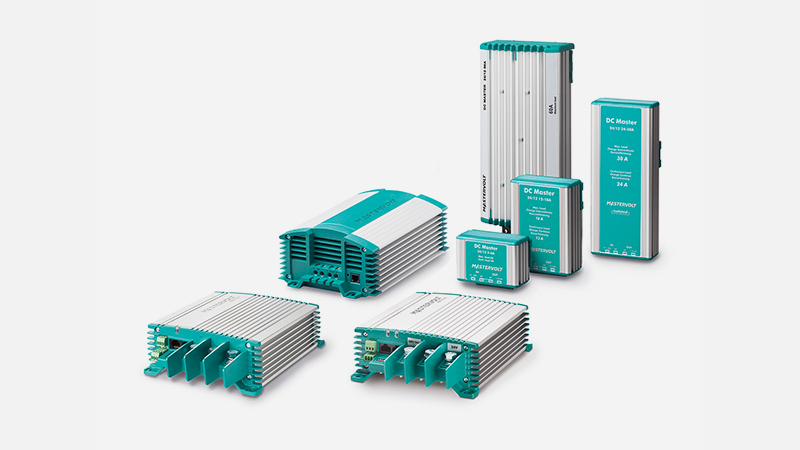 Amsterdam – Mastervolt, a global leader in innovative autonomous power solutions, today announced the launch of its 36V and 48V Mac Plus DC-DC chargers. Featuring new bi-directional technology, the new models provide a quick, safe, and consistent charge for both service and starter batteries, with a stable output that powers even the most sensitive loads in boats, RVs or any off-grid system.
"Mastervolt is dedicated to providing premium solutions for all power needs and we are excited to announce four new models joining our Mac Plus series with new innovative features," said Eric Lindquist, VP and General Manager, Power Systems at Navico Group. "Charging service batteries of a vehicle or vessel can be challenging due to voltage drops and insufficient charging. With the Mac Plus DC-DC charger, both service and starter batteries are charged efficiently, quickly and safely thanks to the revolutionary bi-directional technology that uses either side as an input or output.  The Mac Plus provides consistency and peace of mind to users, providing stable power when they need it most."
The 36V and 48V Mac Plus models have a new bi-directional technology that ensures both service and starter batteries receive all the power they need by using either side as an input or output, delivering a reliable and consistent charge. There is no risk of draining the starter battery when charging the house bank because it automatically monitors whether the engine is running or providing charge. The Mac Plus uses the proven Mastervolt 3-step+ charge algorithm, delivering a quick and easy charge, even to completely flat batteries. By knowing when the engine is running and providing charge, users can also be sure that the Mac Plus will never drain the starter battery.
The new models offer total power flexibility to users. With a wide DC input range, it allows all DC sources and can charge two batteries from a single alternator or charger. It supports a full range of chemistries and battery types, including lithium, and also functions seamlessly with modern alternators such as Euro 5 and 6, ensuring proper charging by providing constant power, even when the alternator is inactive. Additionally, the models feature parallel configuration of up to ten units that will provide over 100 amperes and advanced high-frequency technology with modern microprocessors ensuring minimal power loss when switching from 36/48V to 12/24V and vice versa. The Mac Plus is also compatible with CZone®, NMEA 2000® and MasterBus, allowing full monitoring and control.
Designed to endure the harshest conditions, the Mac Plus has battery temperature optimized charging and high-quality aluminum housing to ensure superior protection against dust and water ingress. Additionally, the power efficient design allows the Mac Plus to operate silently and without a fan. 
Key Features
New bi-directional technology that ensures both service and starter batteries receive power

Fast and safe charging, even during short trips

Operates silently without a fan

Suitable for flooded, Gel, AGM and Li-Ion batteries (incl. LiFePO4)

Engine run detection protects starter batteries

Adjustable current limits to meet Euro 5/6 requirements

Voltage stabilization protects sensitive equipment, lights and loads

A single unit can be used for 36V setup or for 48V setup

Can be used as stand-alone or integrate as part of a system with CZone, NMEA 2000 and MasterBus
The four new Mac Plus models are available now starting at $675. For more information about Mastervolt and its portfolio of power solutions, visit www.mastervolt.com. 
About Mastervolt
Mastervolt is part of Navico Group, a division of Brunswick Corporation's (NYSE: BC), and is a leader in innovative autonomous power solutions. As specialists in the management, conversion, and storage of electrical energy, Mastervolt offers a comprehensive product portfolio with a power range from 300W to 40kW.. The brand's electric solutions are widely used in demanding markets such as marine, mobile, off shore, industrial, autonomous solar and infrastructure. For more information about Mastervolt, visit https://www.mastervolt.com/.  
About Navico Group
A division of Brunswick Corporation (NYSE: BC), Navico Group is the world's leading supplier of integrated systems and products to industries ranging from marine to recreational vehicle and beyond. The Navico Group portfolio is comprised of industry-leading brands in power management, digital control & monitoring, networked devices, and marine electronics. Some of the many brands that make up Navico Group include: Ancor, Attwood, B&G, BEP, Blue Sea Systems, C-Map, CZone, Garelick, Lenco, Lowrance, Marinco, Mastervolt, MotorGuide, Progressive Industries, ProMariner, RELiON, Simrad, and Whale.
CONTACT OUR PR TEAM
GET IN TOUCH
For more information about the new 36V and 48V Mac Plus models, please contact: