NAVICO GROUP'S FATHOM® E-POWER SYSTEM WINS NMMA INNOVATION AWARD AT THE 2023 MIAMI INTERNATIONAL BOAT SHOW
The Fathom e-power system is an integrated lithium-ion auxiliary power management system that delivers reliable power and unparalleled performance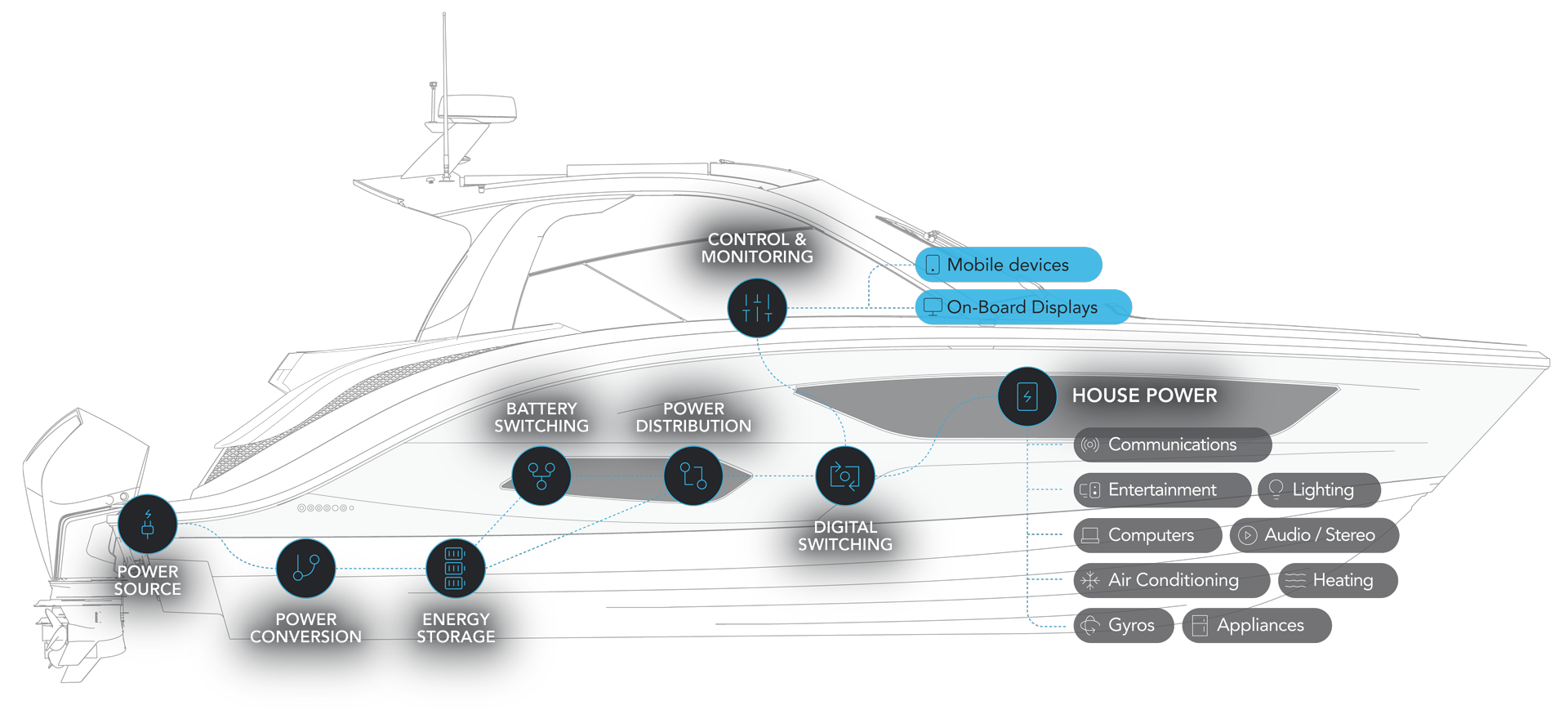 Lowell, Mich. – Navico Group, the world's leading supplier of integrated systems and products, has been awarded a 2023 Discover Boating Miami International Boat Show Innovation Award in the mechanical & electrical systems category for its Fathom® e-power system.
"We are honored that the Fathom e-power system was selected for a 2023 Innovation Award," said Eric Lindquist, VP and General Manager, Power Systems of Navico Group. "Our team has put so much work into developing this product and we thank the judges for recognizing our efforts. We are dedicated to transforming the boating experience and the Fathom system plays a major role in that." 
Unveiled in September 2022, the Fathom e-power system is an integrated lithium-ion auxiliary power management system that delivers reliable power and unparalleled performance for the marine and RV sectors. The Fathom system offers advanced digital controls and monitoring of power consumption, delivering information on demand and providing complete control for the user.
A combination of powerful components from industry-leading Navico Group brands including Mastervolt, RELiON® Battery, Simrad Yachting, BEP, CZone®, Ancor, and Blue Sea® Systems, the Fathom e-power system is a fully vertically integrated solution compromised of energy storage, power conversion and digital monitoring and control. The system allows users to extend time away from the charge source by providing more battery capacity and efficiently managing the electrical system, while also eliminating the noise, vibration and fumes associated with traditional generator experiences. Additionally, an intuitive user interface allows end users to easily monitor and control their power on and off the vessel via multifunction displays. 
Available in 12V, 24V and 48V customizable kits, Fathom is designed to seamlessly integrate into a wide range of boats and recreational vehicles, providing a simple experience for both the manufacturers and their customers alike. The hardware and software elements are tested and validated to ensure compatibility with the Fathom e-power system as well as third party hardware. Additional custom kits are scheduled to launch throughout 2023. 
"A growing trend in recreational boat systems uses high capacity electric systems to power all the house loads including Air conditioning without an onboard generator. Navico Group meets this challenge with a fully integrated system based on Lithium Batteries operating at 48-volts to extend the time away from charging sources and remove one internal combustion engine from the boat," said judge Tim Murphy.
The Innovation Awards program, organized by NMMA and judged by Boating Writers International (BWI), honors manufacturers and suppliers who bring new, innovative products for the boating industry to market. The award acknowledges products that best meet criteria including innovative distinction from other products currently being manufactured, benefit to the marine industry and/or consumer, practicality, and cost-effectiveness. The judging committee is comprised of BWI members who perform product testing throughout the year and have expertise in marine products.
About Navico Group
A division of Brunswick Corporation (NYSE: BC), Navico Group is the world's leading supplier of integrated systems and products to industries ranging from marine to recreational vehicle and beyond. The Navico Group portfolio is comprised of industry-leading brands in power management, digital control & monitoring, networked devices, and marine electronics. Some of the many brands that make up Navico Group include: Ancor, Attwood, B&G, BEP, Blue Sea Systems, C-Map, CZone, Garelick, Lenco, Lowrance, Marinco, Mastervolt, MotorGuide, Progressive Industries, ProMariner, RELiON, Simrad, and Whale.
CONTACT OUR PR TEAM
GET IN TOUCH
For more information about the Fathom® e-power system, please contact: