The History of HDS: Over 15 Years at the Pinnacle of Fishing
HDS, now in its fifteenth year of existence, is one of the most important product families within our Lowrance portfolio. ​​​​​​​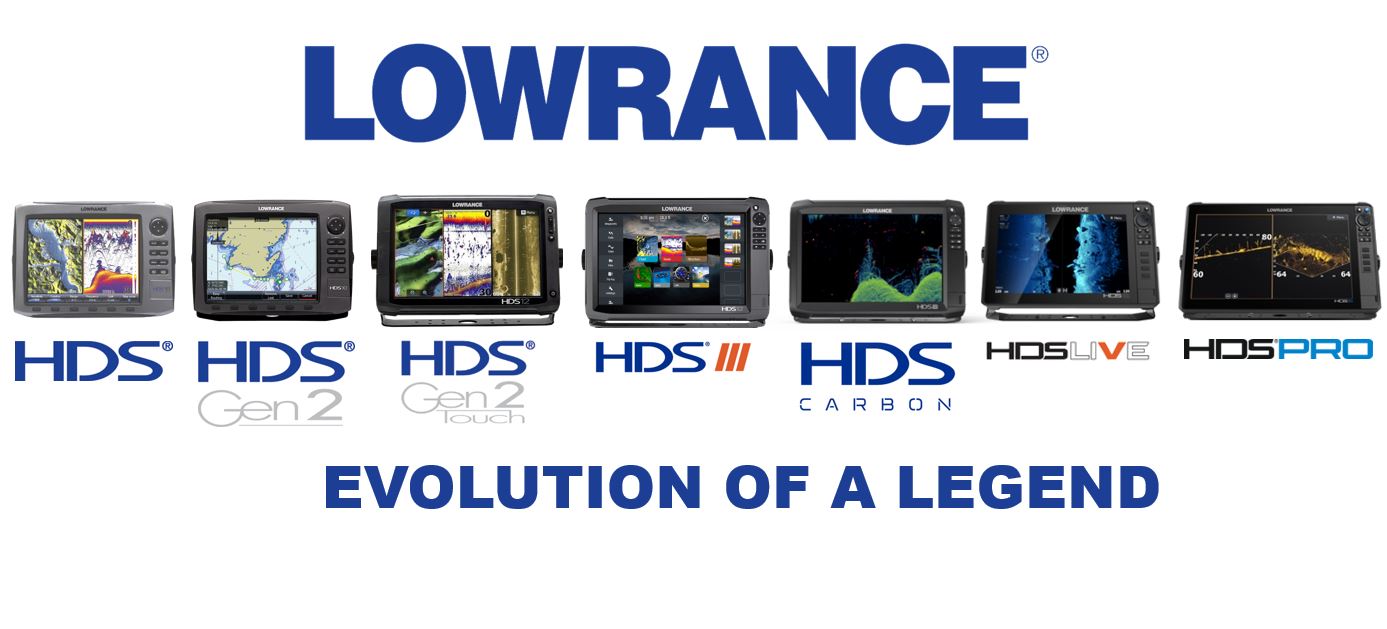 HDS is also our most premium line of Fish Finder, designed specifically for those serious anglers across the world that want highest resolution sonar on crystal clear displays, detailed charting, and the best integration and control with other products, (e.g Trolling Motors) creating the "Ultimate Fishing System."

The latest release from our long running HDS Series is HDS PRO, which was announced in late 2022. Remarkably, it is the seventh generation of the series and takes the "Ultimate Fishing System" to a whole new level. But how did HDS start out and how has it evolved over the years?
Launched back in 2008, HDS stood for "High Definition System." The name was chosen to inform the consumer that this fish finder was different than anything they had seen before.  The HDS was truly built to deliver the best sonar views and be at the core of a full 'system' of marine electronics, and not just a standalone fish finder.
In the early days of HDS, the sizes of screens available were very different. "With the first two generations of HDS, you had 5, 7, 8 and 10 inch displays available, but certainly not the 12 and 16 inches that you see today" said Jeremiah Clark, VP and General Manager of Fishing Systems.
He continued: "With the new HDS PRO, we're bringing back a legend by reintroducing the 10-inch model, a retro-size and format which has always been an angler favorite."
Unlike with many MFDs, HDS has always had buttons on the side to enhance the user experience. Today, they take up less room than the original non-touch generations (which allow for a bigger screen) but they will always be an important feature in HDS. "A slow fishing boat does 40 mph and a fast one does 90+ mph. Buttons will always be an important interface while trying to operate a unit at speed or in choppy waters," Clark says. 
Connectivity and networking have also advanced immensely over the past 15 years or so. With the first generation of HDS, the concept of "The Ultimate Fishing System" was officially born. HDS Gen 1 had built-in GPS, charting and conventional sonar, but you could easily and affordably add-on options such as Side/DownScan, Radar, Weather, and autopilot via modules or accessories via network connectivity.   Move forward to HDS Gen2 Touch, we built-in SideScan and DownScan technology and no longer required a module for this critical sonar fishing tool. That has been the ethos of the HDS product line since its inception. Build in what the customer expects, and easily add-on what the customer may want for future expansion.
Today, HDS PRO can be networked to a host of systems including live sonar, trolling motors, autopilots, radar, engines, NMEA 2000® Audio, weather, NMEA 2000® sensors and Power Pole® shallow-water anchors, all with plug-and-play network connectivity.
Due to the competition and evolution in technology, the price of an MFD has come down significantly. "Back in 2012, an HDS 7-inch display used to be around $1,500 dollars. Today the HDS Live-7 is on closeout for a lot less, so the average selling price has come down a lot over the years!" says Clark.  
It's true that when it comes to fishing, your MFD is only as powerful as the sonar technology that accompanies it, and with Lowrance's game changing ActiveTarget Live Sonar this is definitely the case. ActiveTarget was launched in 2019 and it was one of the best sonar technologies in the market at that time. Its live sonar views were revolutionary and showed high-resolution images of fish movements in real time and in detail.
Our new ActiveTarget 2 continues the innovation and evolution of Live Sonar giving even better resolution and allowing the use of two ActiveTarget 2 systems at the same time with HDS PRO, giving even more views simultaneously with 180 View, Scout Wide View, and a Forward and Scout view. Additionally, the new overlay options will give anglers a completely new view with Scout Mode or Ghost 360 modes directly overlayed on the chart screens.
HDS PRO includes a SolarMAX™ HD touchscreen, which provides stunning sonar images of fish and structure from the Active Imaging HD, offering unbeatable Sidescan and Downscan imaging (both now with FishReveal), as well Chirp. The screen is also polarized, which makes the images clear at any angle and in sunlight, even with sunglasses, making a big difference out on the water. ​​​​​​​
​​​​​Finally, it's our cartography that has supported in the differentiation and continued success of HDS. Anglers demand accurate, beautiful, accessible cartography and C-MAP is up to the mark. "There has been a huge shift in people moving to C-MAP. Its embedded charts are now the best. At the recent MLF Redcrest and Bassmaster Classic, it was all about C-MAP!" added Clark.
HDS is Lowrance's flagship product and has been helping anglers catch more fish for over 15 years. The HDS Series continues to hold a unique relationship with many of the best anglers in the world. It will be fascinating to see where the HDS Series heads next.