WHALE® LAUNCHES HEAT AIR IN NORTH AMERICA
Providing a Compact Propane Heating Solution for the RV Market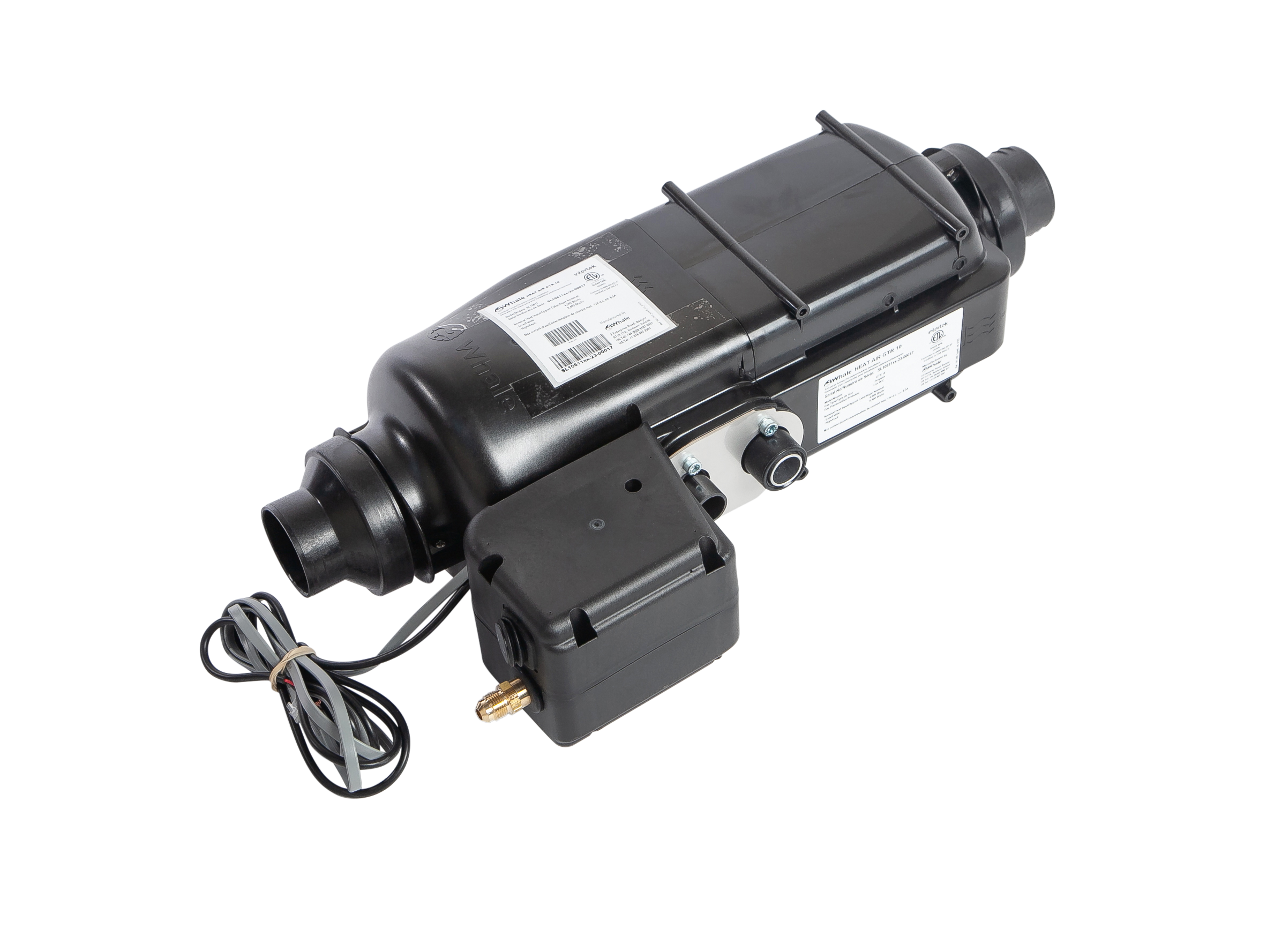 Bangor, Northern Ireland – Whale®, a recognized leader in heating solutions in the European RV industry for over a decade, is today announcing the arrival of the highly anticipated Heat Air, a lightweight, powerful, space creating Propane based heating solution, to the North American RV market.
Space Creating & Powerful Heating Solution
Suitable for towables, motorhomes and campervans alike, Heat Air is a compact and lightweight space heating solution, designed to give RV owners more space inside their vehicle to truly enjoy their off-grid adventures. Weighing under 16 pounds, Heat Air can be installed underneath the vehicle to free up valuable living space inside and more freedom when designing a vehicle.
Available in two power options, GTR 10 and GTR 15, Heat Air is a versatile, propane based heating solution, which means users don't have to be on a campsite to enjoy the benefits of the system. Providing maximum comfort both day and night with fast heat up and a quiet night-time setting, Heat Air is designed to help adventurers enjoy their freedom anywhere with the luxury of a cozy van, all year round.
Different Components to Suit Different Vehicles
The full Heat Air system is customizable to the user, allowing them to select various components that meet their requirement needs. The most suitable Heat Air model can be selected based on vehicle type and length. Once the heater has been selected, the next step is to decide whether it will be installed onboard or underfloor – Whale offers mounting brackets to aid both installations for various vehicle types. There are three flue systems options available, which can be selected based on the heater. 
Whale also offers a range of 65mm and 90mm ducting components, and 65mm outlet fittings in different color options. The intuitive Heat Control panel gives the end user full control and can be used as a standalone heating control or can integrate with LIN or CAN central heating controls.
"We are thrilled to now offer Whale's Heat Air in North America," said Patrick Roberts, VP and General Manager, Performance Components at Navico Group. "Heat Air was designed with the OEM and end user in mind. A powerful heating solution in a compact size is a winning combination and we know it will transform the RV experience for users, enabling more adventures of any kind year-round." 
About Whale
Whale® is part of Navico Group, a division of Brunswick Corporation, (NYSE: BC), and is a global supplier of high quality low voltage and manual pumps, plumbing and heating systems. Whale supplies the marine, RV, healthcare and industrial industries with innovative, high quality solutions. Built on decades of high-quality design expertise, Whale is dedicated to providing premium products and service to its customers around the world. For more information, visit www.whalepumps.com
About Navico Group
A division of Brunswick Corporation (NYSE: BC), Navico Group is the world's leading supplier of integrated systems and products to industries ranging from marine to recreational vehicle and beyond. The Navico Group portfolio is comprised of industry-leading brands in power management, digital control & monitoring, networked devices, and marine electronics. Some of the many brands that make up Navico Group include: Ancor, Attwood, B&G, BEP, Blue Sea Systems, C-Map, CZone, Garelick, Lenco, Lowrance, Marinco, Mastervolt, MotorGuide, Progressive Industries, ProMariner, RELiON, Simrad, and Whale.
CONTACT OUR PR TEAM
GET IN TOUCH
For more information on Heat Air, please contact: